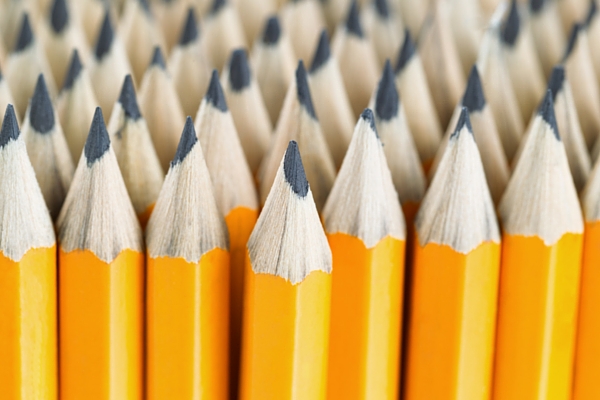 In can never be too early to figure out what to take to the bar exam. Being prepared is a mental necessity and getting these details out of the way early can alleviate some of the stress. The California State Bar website will tell you exactly what you can and can't bring into the exam center, so here is our summary and tips on what we feel is most important.
What to bring into the California bar exam room:
A small old-fashioned clock, no larger than 4″ x 4″. This would be the analog style (you know, with the hands!) and not anything digital or anything that beeps. The clock is critical because depending on where you are sitting in the room, you may not be able to see a wall clock. Get one that you can stand up on the desk right in front of you so that you can see it at all times while you work. Or, you could use an analog watch, but I prefer the clock because it's more visible and I haven't worn a watch since I got my first smart phone!
Your bar exam admittance ticket. You can't get in without the ticket! Don't forget it. And make sure it has no writing on it.
Your identification. Government ID like a driver's license or passport. You will need to present this to the proctors as they pass by to do the fingerprints.
Pens and pencils. But no pens can be brought in for the MBE (multiple choice questions) day, only pencils on that day plus they must not be mechanical pencils on MBE day. If you feel you need to use highlighters, you can bring them, but also not on MBE day. Bring a few sharpened pencils so you'll always have a good point!

Note

: If you are a hand-writer, you must use pen, no pencils for essay-writing allowed.
Paperclips. If you like to tear out your pages for the Performance Exam test, this is a good way to clip together the various cases and sections. Try practicing this in advance to see which method you prefer. Print off a Performance Test Exam and staple the whole thing together. Try writing the exam keeping the staple in, then try a different one separating all the pages and paper-clipping the sections together. Keep in mind there may not be a lot of space to spread out papers on the exam table, so there is some value to leaving all the pages together in the booklet. (No paperclips allowed on MBE day).
Eyeglasses. If you can't read the questions, how will you answer them? I don't use my reading glasses all the time because sometimes I can get by without them. But if you are like me, you don't want to take any chances, so bring your glasses (but no case and no sunglasses allowed).
Earplugs. If you use them. I can never get them to stay in my ears and since noise doesn't bother me too much, I don't need them. It's pretty quiet during the exam, but if you must have them, make sure they are the foam type with no connections to anything.
Cash, credit/debit cards. Decide in advance if you are going to buy lunch near the test center. I was able to walk back to my hotel room each day since it was so close, and I had my lunch ready in the mini-fridge. Scope out the area before the exam if you can so that you know where you can buy lunch. Warning, it will be busy!
Clear, plastic baggie. The Ziploc type is best, to hold all your small things. As many as you need to keep everything together.
Laptop and laptop accessories. Most exam-takers use laptops now (for a discussion on this subject, read our blog post: Does Anyone Still Hand-Write The Bar Exam?) I would suggest not to bring your laptop bag because it can't be taken into the exam room. If you do, you will have to leave it outside the room. I preferred to juggle my equipment in my arms by using a large Ziploc bag to hold my laptop electric cord, mouse and plain black mouse pad (no patterns or writing allowed). I even carried my own keyboard because I felt more comfortable typing on it. (I used a wireless mouse and keyboard making sure to have fresh batteries). Whatever works for you!
A sweater or jacket. Layers are best because depending on the weather, it may be too cold or too hot in the exam room for your liking. I found that I was always freezing at the start of the exam morning, but after an hour or two I was able to take off my sweater and feel more comfortable. For me, feeling cold is a real hindrance to my comfort, so I was glad for my cozy sweater.
Prescription medicines, disability-related items. If you need any of these, they should be allowed. Check the complete list on your State Bar website.
Comfort support. I did not want to be bothered with a pillow, foot rest, bookstand, or any of that stuff. I had enough to carry from the hotel just with all of the above! But if you need it, check the State Bar list as there are a number of items allowed.
What
not

to wear and what

not

to bring:
No hats, caps, or hoods. Unless you need to for religious reasons, then you may file a petition seeking exemption from this rule. That doesn't mean you can't wear a hoodie-sweatshirt, just don't put up the hood while in the exam room or upon entering. (

Note

: we are just discussing

California

bar exam rules here, other states may have restrictions such as no flip-flop shoes. Check your State Bar website to be sure.)
No cell phones, electronic devices. Leave your cell phone in the car or at the hotel. Yes, I know, it's agonizing to part with it. I am NEVER without my cell phone. But you will get over it! You may even like it. If you are so stressed out that you happen to forget and walk into the exam with it in your pocket, there's still a last chance to give it up before the exam starts. The proctor will place it in a box and you can get it back when you leave.
No food, candies, gum, drinks. Not even a throat lozenge! If you have a condition that requires it, be sure to file a petition in advance requesting an exception. You can visit the water fountain during the test if you must.
No tissues. What if you have a cold and need tissues for your runny nose? Like water, tissues are available if needed, just ask a proctor.
No wallet, no handbag. Leave it secured at the hotel, or at home. Just take out your credit/debit card, drivers license/government ID, and some cash, all of which you can bring into the room in your plastic baggie.
Being prepared for the first day of the bar exam doesn't only mean studying all the material. If you can get this checklist out of the way early, you won't be scrambling for that plastic baggie and manual clock at the last minute. For more tips on how to get through each and every day of bar exam week, read our blog post: Your Complete Sunday to Friday Guide to Bar Exam Week. And yes, there is some advice for partying in this one!